Reducing production costs for high-tech mass products: Most probably this becomes more relevant during economically challenging times than during periods of economic upswing. The mass production of silicon solar cells is a good example. Wafer-thin material, highly clean laboratory conditions and the highest demands on production conditions make the manufacture of solar cells one of the most demanding disciplines within electronics manufacturing. A new approach developed to print these filigree unit-load components could also be applied to double the throughput of many other components in electronics production.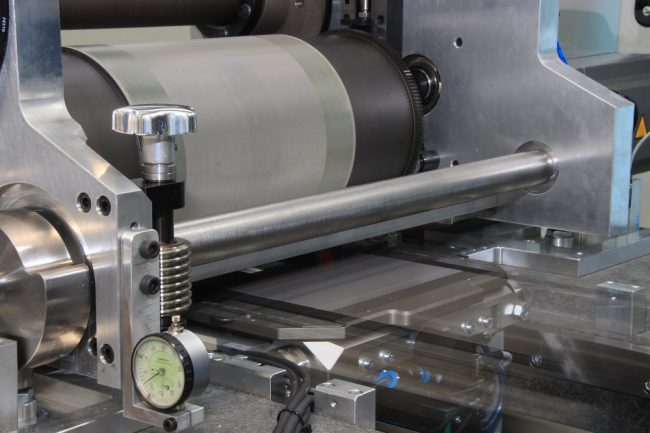 With over 25 billion silicon solar cells produced in 2019, the annual production volume of these high-tech components is immense. A study by Fraunhofer ISE forecasts exponential growth for installed PV capacity over the next few decades. This suggests a massive increase in unit numbers. We need innovative production concepts to manage this gigantic production volume efficiently and economically.
Combination of two highly developed technologies
A concrete approach addressing exactly this need we developed in the joint project "Rock-Star". The idea: By combining two highly developed technologies used for the mass production of different products, the full power of both is unleashed and production capacity is raised to a new level. In concrete terms, this means that we combined of highly developed automation concepts for handling fragile silicon wafers with a tried-and-tested rotary printing technology. The latter has been used for decades to mass produce printed products.
Nowadays, the metallization of silicon solar cells is almost exclusively realized using the flatbed screen printing process. Although a proven and high-quality process, it is limited in terms of throughput. While the printing process in flatbed screen printing is carried out at standstill, rotary printing offers the possibility of a much faster inline production with continuously conveyed unit components. In comparison to customary rotary printing for web-shaped substrates, the use of rotary printing for sensitive unit-load components is a complex technological challenge. The feeding and exact alignment requires extensive expertise in both automation and rotary printing itself.
A first plant thanks to cross-industry cooperation
Meeting such a challenge can only succeed if industry and research partners from different sectors pool their expertise. Therefore, six project partners from different industrial sectors joined forces with Fraunhofer ISE to make the idea of the new production platform a reality. Different specialists from around the world came together and brought with them the challenge of finding a common solution. This demanding task can only succeed if the project manager understands the views of all the partners involved and is able to identify possible misunderstandings early on. The intensive cooperation in a joint project requires a high degree of mutual trust and openness of all partners.
What were the results? This successful cooperation produced a specially developed transport concept based on autonomous shuttles in conjunction with modular rotary printing units. It allows the high-throughput coating of a wide variety of unit-load components with the most suitable printing or coating technology. From fine-line metallization for silicon solar cells to the printing of conductive structures for printed circuit boards (PCBs) and the full-surface coating of solid oxide (SOFC) fuel cells, we can think of a wide variety of application fields in electronics production. Throughout, the focus is on substantially increasing production throughput, as compared to existing production processes. We believe that a technology which meets the high demands of silicon solar cells will work all the more for other products in the electronics industry.
Cover image © Andreas Lorenz / Fraunhofer ISE