Due to the current political debate in Germany, the topic of heat pumps is becoming a main focus of public interest. We have received numerous media inquiries in recent weeks. Thus, we have asked Dr. Marek Miara, expert for heat pump technology at Fraunhofer ISE, for an interview.
Innovation4E:
Mr. Miara, the Federal Minister for Economic Affairs and Climate Action Robert Habeck wants six million new heat pumps to be installed in Germany by 2030 – that is 500,000 units per year from 2024 on. Will we manage this heat pump ramp-up?
Marek Miara:
It is indeed a challenging goal, but I am optimistic that we will be able to achieve this ramp-up in Germany. After all, the public discussion and the enormous interest in heat pump technology in the media today lead to increasing know-how, which enables homeowners and housing associations to plan more concretely. Also, the German government's planned legislation on the installation of new gas and oil heating systems means that the pressure to act is high: As of January 1, 2024, every newly installed heating system must be powered – as far as possible – by 65 percent renewable energy.

Fraunhofer ISE supports the nationwide installation of heat pumps with our research and development work. Our field tests show that the devices can provide sufficient heating capacity in existing buildings if the heat pump is dimensioned correctly. This applies not only to single- and two-family homes, but also to apartment buildings. The task now is fine-tuning – in other words, increasing the efficiency of the devices and developing best-practice solutions together with industry and the housing sector.
How is the heat pump industry responding to the political decisions?
In order to respond to the raising demand, the industry has enormously expanded its production capacities in recent months. The sales figures for January and February 2023 (29,000 heat pumps each) bring the milestone of 350,000 heat pumps for this year within reach. Like the automotive industry, standardization is growing in the heat pumping sector, thus creating synergies. Increasing experience will allow for the development of modular systems for different types of devices and performance classes which will further boost the market ramp-up for propane heat pumps.
Heat pumps run without expensive fossil gas, but isn't electricity also too expensive?
Energy costs for oil, gas and electricity have risen rapidly in the wake of the war in the Ukraine. This is burdening the economy as much as private households. I assume that with the CO2 pricing that has been in effect since January 2021, gas or heating oil costs will rise more than the costs of electricity. The expansion of renewable energy sources, especially photovoltaics and wind, will also cause electricity prices to fall again. This will make heat pump systems more attractive from an economic point of view. Optimally, heat pumps will increasingly run on "green" electricity, – in Germany – preferably coming directly from the roof, that is, from your own PV system.
Which refrigerants are suitable for heat pumps?
One of our research fields at Fraunhofer ISE concerns refrigerants for heat pumps. The regulation of so-called F-gases (fluorinated greenhouse gases) by the EU is forcing manufacturers of heat pumps to switch to environmentally friendly refrigerants. At Fraunhofer ISE, we have successfully tested the use of the natural refrigerant propane – it proves to be cost-effective and climate-friendly. We succeeded in setting a record: We were able to build a very efficient refrigeration cycle with only 124 grams of propane at a maximum heating capacity of 12.8 kilowatts. This corresponds to a specific refrigerant charge of 9.7g/kW output. This result was achieved as part of the "LC150" research project, in which several dozen prototypes for brine heat pumps were built in the search for the most efficient propane refrigeration circuit. The individual components, i.e., evaporator, compressor, condenser, heat exchanger and expansion valve, were assembled in various constellations.

The reduction in the amount of refrigerant to less than 150 grams of propane now makes it possible to install propane heat pumps inside buildings without additional safety measures, as with refrigerators (150 grams is the limit in Germany, editor's note). This significantly expands the range of applications for the future devices.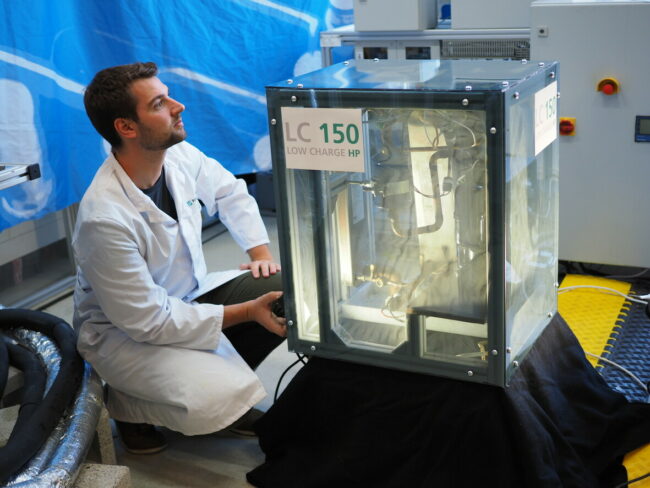 Are propane heat pumps also suitable for apartment buildings?
In the follow-up project "LC R290", which has just started, we are working – this time with a consortium of heat pump manufacturers and the housing industry – on reducing refrigerants in larger scale systems. The goal of this project is to develop propane heat pumps for multifamily buildings. We are looking at solutions for three application areas specifically: floor heating systems, indoor central heating systems, and higher performance classes for outdoor heat pumps. With the aim of replacing central heating in the basement, heat pumps with a larger output are to be developed, as are safety concepts that can be implemented on a broad scale. The focus for the externally installed high performance heat pumps is on refrigerant reduction and optimized defrosting as well as standardized safety tests.

The goal is to achieve larger capacities for the same space and safety zone through refrigerant reduction and improved defrosting – this would facilitate the use of larger heat pumps in urban areas. We'll know more in two years – that's when the first results from the project can be expected.
Are heat pumps the only heating technology for the future?
Heat pumps use electricity very efficiently and can turn 1 kilowatt hour of electricity into 3 to 5 kilowatt hours of heat. A good gas heating system manages a maximum ratio of 1 to 1 of the energy used to the heat produced. Due to the political frameworks for CO2 reduction, we expect that heat pumps will be the dominant heating technology for residential buildings in the coming years. They are efficient and climate friendly and they can reduce our dependency on energy imports and fossil raw materials.

In addition, district heating grids are well suited for supplying heat in communities. Especially in densely populated areas, heat can be cost-effectively produced from renewables and waste heat. A factor which makes it increasingly interesting for the municipal heat supply.
Where do we find all the craftspeople needed to install the heat pumps?
We have a shortage of skilled workers in industry and the trades, thus training and continuing education must be increased and updated. In addition to that we need to simplify the installation of heat pumps. Digitalization and artificial intelligence can help us to optimize the assembly and installation as well as the operation of the devices. In future a new AI software will make it easier and faster to customize heat pump installations. The heating and plumbing industry is also investing in the heat pump market, for instance, by intensifying training and education.

We have started several projects at Fraunhofer ISE to further optimize the deployment of heat pumps and we cooperate closely with the heat pump industry, i.e., the manufacturers of components and devices.
Mr. Miara, thank you very much for the interview.
Further reading:
Blog series "Heat Pumps in Existing Buildings" by Dr. Marek Miara.
Heat pumps for existing multi-family houses
Project website "LowEx in existing buildings
Environmentally friendly refrigerants
Digital in the boiler room: Inventory and quotation generation
Project digitalization of inventory and quotation creation in the SHK trade